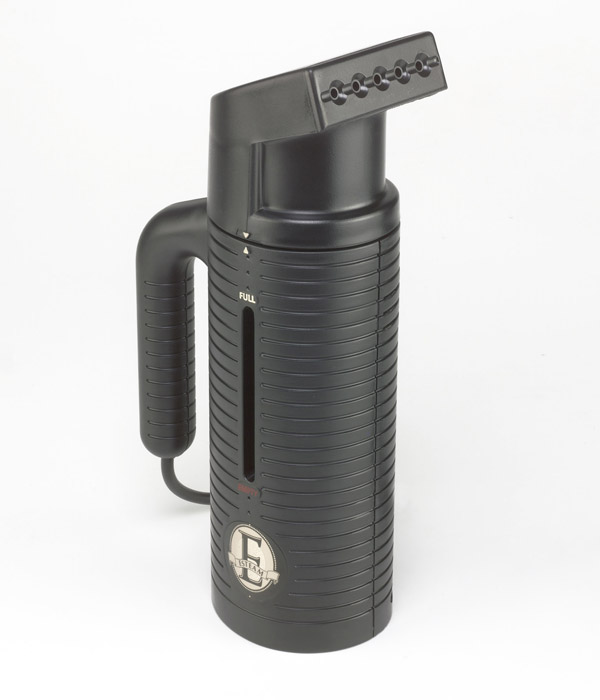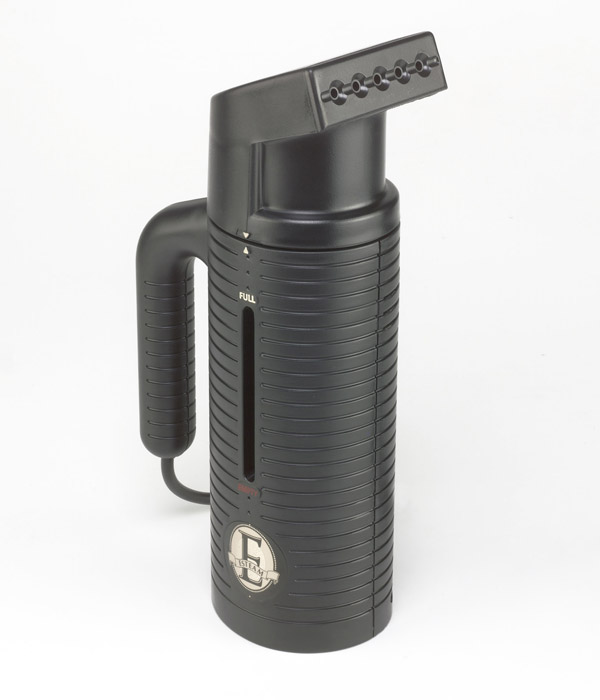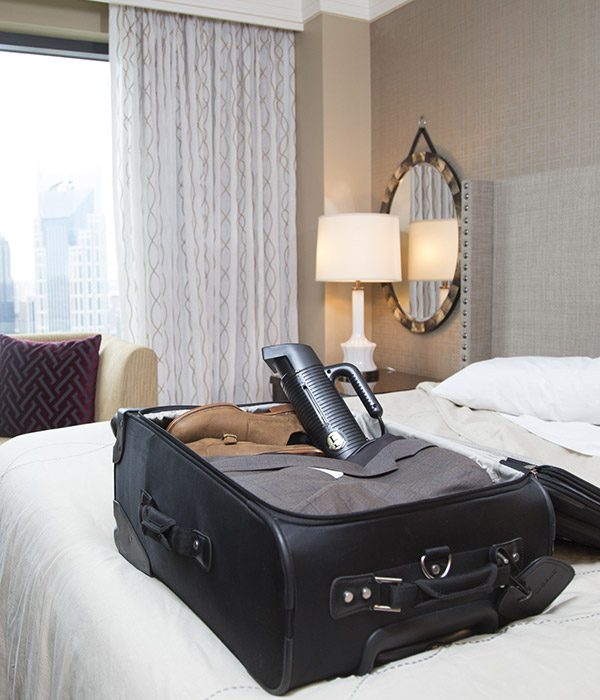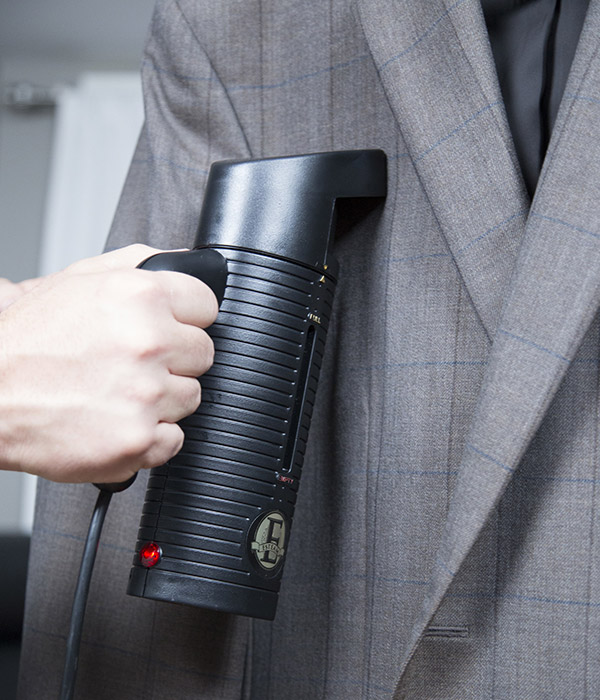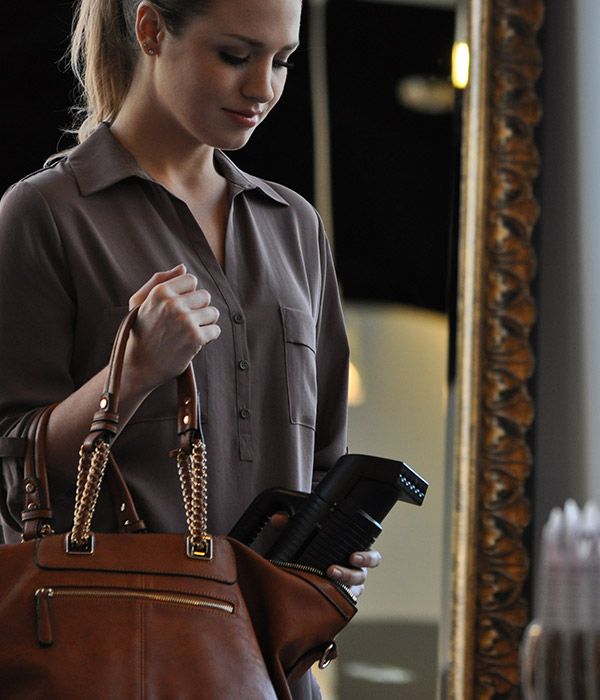 ESTEAM Handheld Travel Steamer
The easy-to-use ESTEAM Handheld Travel Steamer conveniently removes clothing wrinkles without the use of an iron. With a Jiffy Steamer, there is no need for a temperature setting like on an iron. ESTEAM's compact, lightweight design makes it ideal for use anywhere space is a premium and a perfect gift for travellers, students or newlyweds.
Three times more powerful than any handheld steamer on the market, with 600 Watts of power
Ready to steam in one minute
No internal water lines or pumps that could become clogged by hard water
Uses plain tap water – no salt needed
Wide mouth, easy-to- fill water tank
Largest water reservoir on the market
Double-insulated outer housing for cool-to- the-touch operation
2,7m power cord with moulded storage clip for more manageable handling
Water level window on both sides of the unit
Designed to fit neatly inside a suitcase or briefcase
3-Year Limited Product Warranty
Out of stock - you can be notified when stock is available.
Product Description
Specifications
Carton Dimension: 28cm x 13cm x 16.5cm
Assembled Dimension: 14.5cm x 11.5cm x 27.5cm
Carton Weight: 1.3kg
Electrical Certifications: UL, cUL, TUV/GS, CE, NOM and ANCE Listed
Steam Time per Filling: 15 minutes
Water Capacity: 2.35 litres
Voltage: 230V
Wattage: 625W
Cord Plug: BS-1363, BS-546, 6-20P, CEE-7, ETSA S-86, SI 32, NEMA 5-15
Jiffy Steamer ESTEAM Handheld Travel Steamer Troubleshooting Guide
The following are common problems, causes and solutions for the ESTEAM Handheld Travel Steamer. We strongly recommend customers contact us to book a service to ensure the most professional repair service possible. If your issue is not listed, contact us with your questions and we will respond as soon as possible.
Steamer works poorly or turns ON and OFF while steaming.
The unit has sediment build-up and needs a thorough cleaning, or there is possibly trouble with the thermostat. Clean off the element – a small brush may be needed to help clean it. The thermostat may need to be replaced.
The red indicator light illuminates, but the unit never heats or steams.
The element may have blown. Contact us to replace the defective element.
The red indicator light does not illuminate when the unit is plugged in.
The fusible link wire may have blown. Replace the fuse wire. If the steamer heats up and produces steam, the red pilot light may need to be replaced. Contact us for replacement parts.
The unit spits water from steam cap.
The unit is being overfilled or needs to be cleaned out inside the tank and cap. Do not overfill unit above the maximum water mark indicated on the side of the unit. For best results from your steamer, periodically remove sediment deposits from your water (every three to four months) depending on how much the unit is used.
Cleaning Instructions for the ESTEAM Handheld Travel Steamer
Once you begin to see calcium scale collect in the bottom of your ESTEAM Handheld Travel Steamer, it's time to clean it properly. Follow these instructions:
Unplug your steamer from the wall outlet. Pour out any remaining water from your unit.
A solution of 50% white vinegar and 50% distilled water may be used as a cleaning solution. Pour the cleaning solution where you normally place the water. Allow the cleaning solution to remain in the unit for 2-3 hours. DO NOT STEAM THE SOLUTION IN THE UNIT AS DAMAGE MAY OCCUR.
Pour the cleaning solution out of the steamer.
Rinse the unit thoroughly by flushing with fresh water 2-3 times.
If discoloured water or residue continues to come from the unit, the above procedure may need to be repeated
We recommend cleaning the steamer once every 4-6 months, depending on the amount of sediment in your water source.